Mike Bosley at Appalachian Offroad has been a fantastic vendor to deal with.. Over the past few years Mike has supported a few of us Raiders..
Please contact Mike for all your Jeep needs. He is a fantastic fabricator and is very nice to deal with......
Most of the work on the Crush was performed at Appalachian...
Full cage..
Skid work
Front Yukon Chromoly, detroit, superjoints
Rear Yukon 35 spline chromoly, spool..
4 to 1
lots more I cant even think of right now....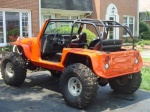 _________________
08 Duramax "Krawler Hauler"/ 98 TJ "Orange Crush" OLD SCHOOL OFFROAD at its BEST!!

The Crush has made its way to Arkansas and been replaced with a 97 Wrangler named "___________"....